September not only announces the end of summer when the throngs of vacationing students and their families return back to work or school. It also presents us with some of the best places to travel in September due to the lower amount of people and still have warm summer weathr. If you are wondering where to go in September, you may be happy to discover these 10 places that we have listed in our list below. These are gorgeous destinations that are far more pleasant without the tourist crowds and you may be able to save a few bucks on airfare and hotels in September (The exception being Munich for Oktoberfest). Besides low prices, great weather, and fewer crowds, these places make our list of the best places to travel in September because they are some of our favorite places to begin with.
The Met and the Guggenheim are just the beginning of a dizzying list of art-world icons. You'll find museums devoted to everything from under the sun here. Dive into the cutting-edge galleries of Chelsea and the Lower East Side, with their festive-night parties (usually on Thursday night if you want to partake), or head to new frontiers in Brooklyn and Queens.
With its compact size and streets packed with more sights than a sightseer needs. New York City is home to old world ethnic cafes. You can cross continents as easy as walking a few blocks. You can lose yourself in the crowds of Chinatown or head up to Nolita for enticing boutiques and coffee tasting. Every neighborhood offers a its own unique charm from the 100-year-old Jewish delis of the Upper West Side with to die for pastrami to the meandering cobblestone streets of Greenwich Village. And let us not forget about Broadway and Park Avenue for a minute. New York has it all.
There's never been a better time to travel to New York. While New York is never ever really not crowded hotel rooms go down in price and it is a great time to try some of the locally sourced cuisuine that you can't find in the Winter.  There has been an rise in restaurants growing vegetables on roof gardens or sourcing from upstate farms. Of course, you can also hit a gourmet food truck or dine at one of the city's 75 Michelin-starred restaurants.
French Polynesia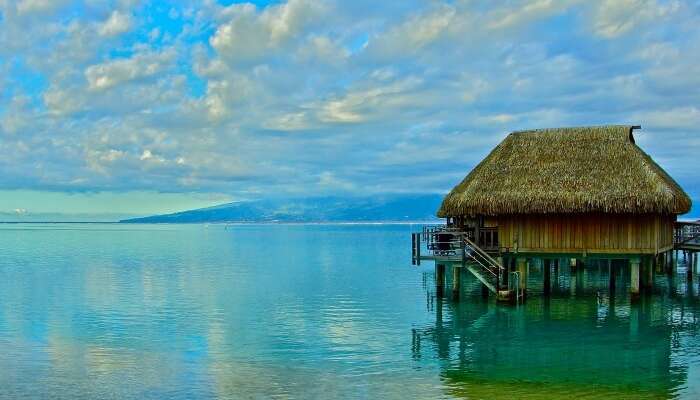 The rainy season doesn't begin until November and while many like going here in the Winter to escape the cold I'd rather go  when the weather is almost guaranteed to be better. Humpback whales are migrating nearby in September and are visible during this month, coming back to the area to give birth. The vibe of every island at this place differs from each other so you can choose your best spot as per your liking from secluded to fancy resorts. For whale watching you can should select Moorea. Bora Bora and Tahiti are famed as a romantic couples destinations.
The best places to travel in September: Amsterdam
Amsterdam is far more than coffee shops and the famous red light area. It has amazing architecture and the inner city is laced with canals and narrow streets. The flower market is still going strong in September.
Amsterdam Art Scene
You can't walk a kilometre without bumping into a masterpiece in the city. The Van Gogh Museum has the world's largest collection of Vincent Van Gogh art in the world and is layed out so you can see how his art changed throughout his life.  Nearby the Van Gogh Museum you can find Vermeers, Rembrandts and other Dutch masterpieces in the Rijksmuseum. The Rembrandthuis is a small place where you can see a number of his etchings. The Stedelijk Museum features Matisses and Mondrians among its collection. Hermitage Amsterdam is a branch museum of the Hermitage Museum of Saint Petersburg, Russia, and has over three-million-pieces to go through. 
Hop aboard a canal boat (preferably an open-air one) or one of the free ferries behind Centraal Station, or rent your own for a wind-in-your-hair ride and head to the swing at the A'dam lookout for a unique experience and see why it's one of our best places to travel in September. For a real Dutch treat hit up Arendsnest with over 300 different Dutch made beers.
Greek Islands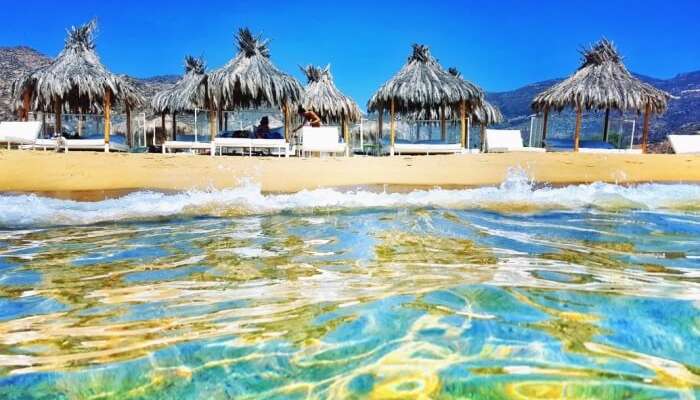 September is an incredible time to visit Athens or the Greek Islands. The climate in September is still nice enough early in the month for swimming, snokleing or sunbathing. Athens is nice for it's ancient ruins but the beautiful blue waters and sandy beaches make it one of the best places to travel in September.  Instead of Athens consider Santorini, with its ancient ruins and beautiful churches, is famous every time of the year.  You can expect moderate to warm temperatures and 11 hours of sunshine per day. The crowds go away in September, leaving you quiet peaceful beaches and resorts at bargain prices. Greece's prettiest island is famous for its whitewashed towns and incrdible sunsets. It's also a grat spot for couples of any age to enjoy a little romance. 
Vancouver, British Columbia
Vancouver is often hailed as one of the world's most livable cities and is Canada's gateway to Asia and Alaska. Nature buffs will love exploring the harbor and the local mountains. Be sure and visit some of the Olympic venues. Stanley Park in Vancouver is a 1,000-acre park surrounded by water on three sides that's home to the seawall—the world's longest uninterrupted waterfront pathway. While it is lacking the culture of say Amsterdam in September, the Westward Music Festival will animate several downtown music venues with performances by over 100 artists, while the Vancouver International Film Festival is set to kick off on September 27 with an exciting roster of screenings spotlighting Canadian filmmakers. 
Munich Germany
Oktoberfest attracts millions of visitors to the beautiful Bavarian city Munich for what counts as probably the largest celebration in the world dedicated to beer, pretzels and lederhosen. Oktoberfest actually begins in September and ends in October. Read out previous review here: Oktoberfest travel guide
At Oktoberfest fun-loving Bavarians,  and enthusiastic tourists consume millions of liters of beer from local Munich breweries in gigantic beer tents that fill upwards of 10000 people. Similarly an impressive number of traditional grilled sausages and giant pretzels aka brez'n. Many of the tourists seem to come from Australia, Italy and the USA but pretty much beer drinkers from every country on the planet come here for Oktoberfest. The festival features bustling parades of carriages and people dressed in traditional Bavarian costumes, live folk music, and fairground rides so you can even bring the kids.
In addition to being the host of Oktoberfest, Munich is a popular destination on its own with its worldclass airport and Munich has world-class museums and art galleries, charming architectural gems, and a vibrant nightlife along with surfing. Yes Surfers hit the river in the English Gardens daily to catch the never ending waves created by the flow of the river. About an an hour outside of Munich, the castle that dreams of made out of Neuschwanstein Castle sits gloriously on a mountain. It is open to tourists and in September other than the Oktoberfest period tickets are not a problem. It is said to be the motivation for Sleeping Beauty's Castle at Disneyland. While not uplifting a visit to Dachau is a sad history lesson that is worth checking out. Another castle worth exploring is the Residenz, Germany's biggest royal residence complex near the famous Hofbrauhaus and now an exhibition hall showing fortunes of Bavarian royalty going back to the fourteenth century.
One side trip that shouldn't be missed by beer drinkers is the Kloster Andechs, located at the end of the Munich Subway line. It is a Benedictine Monastary that has a beautiful 15th century baroque church and a few steps from the church is the Monks beer hall with some of the best beer and Hax'n (Pig knuckles) on the planet with incredible views to boot.
Aix-en-Provence, France
While Parisians flock to visit the South of France in the summer, smart travelers typically flock here in September, when temperatures are mild and the crowds have died down. We recommend a stay at Villa La Costes, The suites, are surrounded by spectacular vineyards, and a art park and pavilion.  Just outside of Aix-en-Provence in the French countryside. The villa enzo Piano, and Tadao Ando." The property, located on the 500-acre Chateau La Coste vineyard, has an Michelin-star chef.
Lisbon, Portugal
September is a great time to visit Portugal because the weather is still warm and the crowds have thinned out. This September tour operator Wild Terrains will launch their first women's only (the fastest growing segment of the travel market) trip to Portugal. The seven-night trip includes stops in Lisbon, Alentejo, and Porto and stays at women-owned hotels, street art tours, and a tasting menu dinner at women-owned Prado, consistently ranked as one of the top restaurants in Lisbon, with wine pairings by Portugal's top female winemakers
Is there ever a bad time to visit Lisbon? Probably not—but September is especially great. We visited in October last year and just missed out on being able to enjoy the beaches. The city starts to cool off after the hot summer and music festivals like LISB-ON and Nova Batida heat up the party scene. Combine Lisbon with a trip to nearby Sintra, a fairytale village where Portuguese royalty built their castles and is home to one of the James Bond Casinos. 
The best places to travel in September list has to include Los Angeles.
Over Labor Day, the LA Times hosts its annual food and wine festival, The Taste, where Los Angeles' top chefs come together for cooking demos, seminars, and events. There's also Shakespeare in Griffith Park and Cinecon, the 54-year-old Classic Film Festival. Book a room at the swanky Waldorf Astoria Beverly Hills, which is one of LA's places to see-and-be-seen. Also it is a great time to visit Magic Mountain, Universal Studios and Disneyland.  See our recent Disneyland review here: Disneyland Travel Guide
Budapest, Hungary for the wine festival
From the 5th of September to the 8th of September 2019
The Budapest International Wine Festival is dedicated to world-renown Hungarian wines, but it's not an event exclusively for wine lovers. People interested in local gastronomy, local traditions, and cultural programs find the festival wonderful as well. Held on the grounds of the beautiful Buda Castle, with stunning views over the city, the festival quickly seduces participants with its unique historical setting. The International Wine Festival has slowly become a prestigious event on Hungary's cultural agenda due to its expansive program, which includes wine auctions, artistic performances, and live folk music. The main highlight  much like the Munich opening day parade, is the Harvest Procession to the Buda Castle. Outside the festival grounds, it's worth checking out the famous thermal baths of Budapest, the amazing Gothic architecture of the Parliament, and the numerous historical and cultural sights that the Hungarian capital packs up. Budapest also has its own Oktoberfest party at the end of the month but not nearly as rowdy or bucket list material like Munich's is.
Going on a trip Check out The Brooklyn Nomad for great Travel Gear such as this Samsonite Duffel Bag:
https://www.thebrooklynnomad.com/product/samsonite-duffel/